Each year, the world has roughly 40 million incorrect medical imaging diagnoses. So how are both the quantity and quality of diagnoses increased? VinDr – an artificial intelligence system that resonates the power of thousands of medical intellectuals and hundreds of thousands of clinical image data, is expected to be the solution.
From the challenging issues
According to research by Fortune Business Insights, the size of the global medical imaging market in 2019 was 33.69 billion USD and is expected to reach 43.33 billion USD by 2027. The market CAGR is estimated at 5.1% throughout the prediction period. The World Health Organization (WHO) also estimates that every year there are about 3.6 billion diagnoses globally. In fact, governments are paying increasing attention to the monitoring and screening of population health, investing in early detection of disease risks to minimize treatment costs. In addition, the increase in the incidence of acute and chronic diseases including cancer, cardiovascular and orthopedic trauma is the main reason driving diagnostic imaging into one of the thriving trends of medicine.
In Vietnam, early and accurate diagnosis for disease detection and treatment is also an urgent issue, requiring serious investment from the government and individuals. The reason is that in 2019, although ranking 99 out of 185 countries in terms of disease incidence (151.4 / 100,000 population), Vietnam ranks 56th in the world in mortality from cancer (104,4 / 100,000) – WHO reported. According to experts, the cause of this condition is that more than 70% of cancer cases are detected and treated late. If diagnosed early, the treatment effect can be up to 70% as in countries with developed healthcare industry.
This fact raises an urgent requirement: How to improve the quantity, speed and quality of diagnostics? The answer probably lies not only in the human resource factor, because at present, the rate of diagnostic imaging error accounts for 3-5% (about 40 million cases/year globally). Moreover, the overcrowding of cases in hospitals and the shortage of doctors are a big problem for Vietnamese healthcare. So, what resources will assist the doctor in the diagnosis of the disease?
To solution-seeking journey
According to the Radiological Society of North America (RSNA), artificial intelligence (AI) will be the leading technology and an effective assistant for radiologists. In terms of speed, AI shortens the time spent on magnetic resonance imaging (MRI), computed tomography (CT), as well as image processing and identifying disease. In terms of diagnostic quality, thanks to AI that synthesizes historical factors and compares prognosis with similar cases in the past, patients can get accurate results and personalized treatment regimens from the first time. Because of the above properties, clearly, the answer to the medical imaging problem lies in AI. Instead of waiting for a new generation of medical staff, who are qualified enough to meet the increasing demand of patients in early detection of disease risk, AI will be a fast and durable enough resource to continuously solve medical problems.
Thus, VinDr – a hard-working student having trained by a team of hundreds of radiologists since 2018, has constantly optimized its AI algorithm to produce the fastest and the most precise results. Applying computer vision (CV), machine learning (ML) and deep learning (DL) models, VinBigdata builds computer-aided diagnostic systems (CADx) from large clinical data sets (including various types of medical images such as X-rays, CT scans, MRIs, etc). Expected to be a comprehensive AI solution for medical imaging diagnostics, VinDr is developed with seven diagnostic modules, including VinDr-BrainCT; VinDr-ChestXR; VinDr-LiverCT; VinDr-BoneXR; VinDr-BrainMR; VinDr-Mammo and VinDr-ChestCT.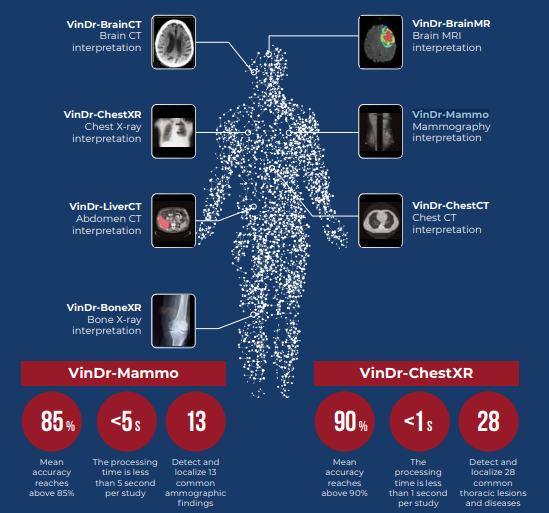 For chest X-ray, VinDr can identify 6 lung diseases and localize 22 common abnormalities. Trained and validated on half a million chest X-ray studies from both public sources and several hospitals in Vietnam, VinDr-ChestXR achieves over 90% accuracy for most diseases and injuries.
For VinDr-Mammo, it is able to classify a mammography study into 3 BI-RADS (Breast Imaging-Reporting and Data System) levels and 4 types of breast density. The system can also localize 13 types of common abnormalities on mammography. Trained from more than 50,000 studies collected at hospitals in Vietnam, VinDr's BI-RADS classification accuracy is over 80%.
For VinDr-BrainCT, it identifies 9 brain diseases, including several types of stroke, and localize 17 types of common abnormalities on brain CT scans. This is the result of training from more than 30,000 studies collected in communities and hospitals in Vietnam.
For VinDr-BrainMR, with training data set from over 3,000 studies, 09 diseases (including brain tumor) and 20 common abnormalities are the diagnostic results obtained by VinDr.
Finally, for VinDr-LiverCT, from over 10,000 studies, it helps detect 10 diseases (including liver cancers) and localizes 24 common abnormalities.
In addition to the diagnostic ability, VinDr can also automatically localize a suspected lesion and point out anomalies with an average accuracy of over 90%. Thanks to the above features, VinDr will play the role of objective consultation, making sure not to miss any small details, helping doctors have enough data to make the best decision.
And the recognition of the scientific community
Resonating the power of thousands of medical intellectuals, with being trained from huge data on medical images, VinDr has proven its competencies in prestigious international competitions, as:
No 1 in CheXpert competition organized by Stanford University in 2019.
No 1 in Abnormal Image Detection in Endoscopy Videos (EndoCV), 2020.
Top 3 in Pulmonary Embolism Detection Challenge, organized by the Radiological, Society of North America (RSNA), 2020.
Top 10 in Intracranial Hemorrhage Detection Challenge on CT scans, organized by the Radiological Society of North America (RSNA), 2019.
Assessing VinDr, Dr. Le Tuan Linh, Head of Diagnostic Imaging Department, Hanoi Medical University Hospital said: "Early detection of cancer through imaging plays an important role in successful treatment for cancer patients. The application of AI in this field creates an effective support tool for cancer screening programs or other incurable diseases in the future. We evaluate that the VinDr system can be at the forefront in imaging diagnostic support".
With these achievements, VinDr is becoming one of the new resources in leading hospitals in Hanoi and Phu Tho. In Hanoi, the solution was applied at 108 Military Central Hospital, Hanoi Medical University Hospital and Vinmec Times City International Hospital. In Phu Tho, 5 provincial hospitals are also implementing VinDr.
Together with VinDr – a comprehensive AI solution for medical imaging diagnostics, VinBigdata also strives to provide the community with a set of advanced technology solutions (including VinBot and VinGen), to answer the popular healthcare issues in Vietnam and worldwide. Not only aiming to promptly and quickly solve the shortcomings of the medical industry, VinBigdata aims to create a sustainable direction for the journey of caring and protecting the health of Vietnamese people.