On October 6, 2020, Vingroup Big Data Institute coordinated with Phu Tho Department of Health to sign a MoU for cooperation on developing and implementing AI-based solution VinDr in medical image processing.
Over the past years, Phu Tho province has paid special attention to the development and application of Information Technology in the healthcare industry. Up to now, 100% of medical facilities have applied IT in general operation. For instance, numerous software such as HIS, LIS, PAS, PHARMA, EMR, etc, have been used to manage personal health records as well as human and financial resources. Especially, the province has leveraged artificial intelligence to assist doctors in diagnosis and treatment of several diseases, such as IBM Watson Oncology for cancers and RAPID for stroke.
Currently, in hospitals of Vietnam in general and Phu Tho province in particular, on average, each doctor diagnoses and gives answers to hundreds of cases per day, making it difficult to avoid mistakes. Therefore, besides improving doctors' professional qualifications and skills, the application of technology (artificial intelligence) will help enhance the quality of diagnosis, especially in medical image processing.
AI-based solution VinDr has been researched and developed since the end of 2018, in order to assist doctors to make fast and precise decisions in diagnostic image analysis. VinDr has 6 diagnostic functions. Two of them including radiological diagnosis in lung diseases and diagnosis of breast cancer on X-ray images have been deployed for the first phase. Another four functions including diagnosis of lung cancer on computed tomography (CT), diagnosis of liver cancer on CT, diagnosis of brain stroke on CT and diagnosis of brain tumors on magnetic resonance imaging – will be deployed in 2021.
In Phu Tho, VinDr will be developed and tested in October at 5 hospitals: Provincial General Hospital, Obstetrics Hospital, Medical Center of Thanh Ba, Cam Khe and Thanh Thuy District. According to the MoU, each hospital will evaluate 1,000 cases of cardiopulmonary x-rays; particularly, the figure for Provincial General Hospital will be over 2,000. At the same time, both parties will work together to research and develop functions which support computerized tomography and magnetic resonance diagnosis. After 6 months of trial implementation, VinBigdata and Phu Tho Department of Health will evaluate the final results.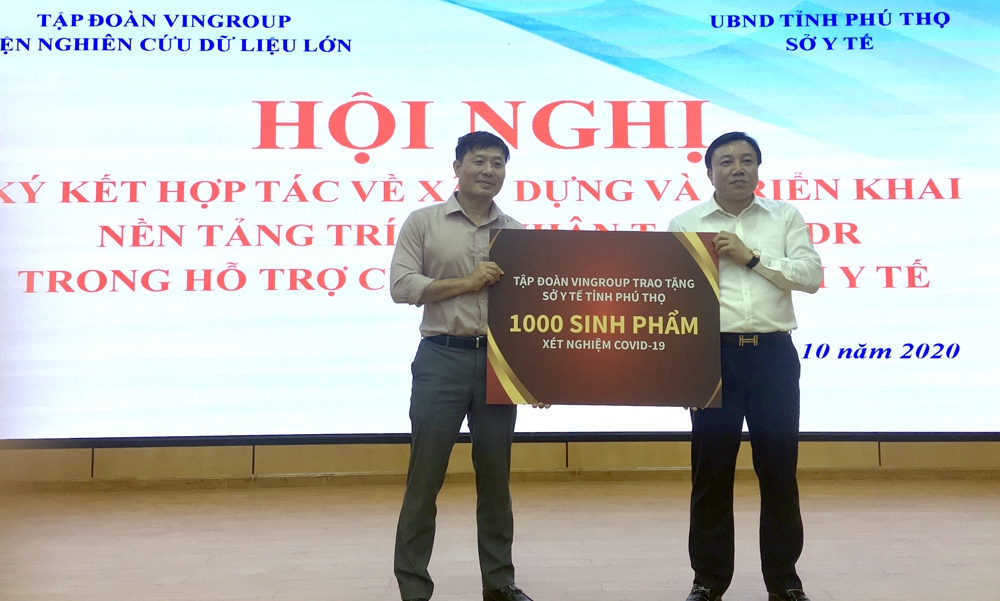 The cooperation in developing and implementing AI-based VinDr is a strategic step to ensure the accuracy and effectiveness of diagnosis, thus contributing to improving community health.
Also at the ceremony, Vingroup also donated 1,000 COVID-19 test kits to Phu Tho Department of Health.