Do you know that one of the most useful tools today for sales and customer service optimization is automatic chatbots? However, not everyone understands all about chatbot and its popular types, as well as how to use chatbot in the most effective way. So let's go through all the basics of chatbot and why it is the solution to the problem of optimizing business efficiency.
1, What is a chatbot?
In the simplest sense, chatbot is a computer program combined with artificial intelligence and natural language processing technology to provide a real-person-like chat experience.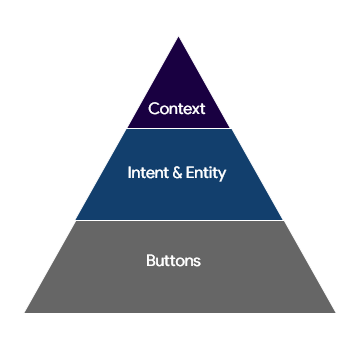 Today's chatbots are usually divided into the three most basic categories:
Button-based chatbot: The scripted chatbot is presented in a menu format. The chatbot buttons require users to make a few options to ask for information.
Keyword recognition chatbot: The chatbot based on keyword recognition can listen to the user's request and use AI technology to give appropriate answers.
Contextual chatbot: Contextual chatbot uses Machine Learning and Artificial Intelligence (AI) technologies to remember conversations with specific users, thereby improving themselves and developing conversations over time.
2, How do chatbots work?
Chatbots interact with people through text or sound. Most chatbots operate according to the following general process:
Translator: Information requested by users after being entered into the intermediate chat platform will be translated into programming language to help the computer understand the information needed.
Processor: At this time, AI technology combined with natural language processing will handle the user's request.
Respondent: The computer will receive the result from AI ​​and return the response to the user through the intermediary chat platform.
The content of the answers can be obtained from:
The script has been prepared.
Contextual information is based on the actual data provided.
Database is available in the enterprise repository.

3, The most popular types of chatbots
With the rapid development of technology, many types of chatbots are produced to serve the needs of businesses. In general, chatbots can be divided into two main categories below:
Sales Chatbot
This type of chatbot can be created on websites, social networking sites to replace a vending employee. Normally, this chatbot will help manage messages and purchase comments on the page and website. The advantage of this type of chatbot is that it responds to messages very quickly and will definitely not miss any customer. Many types of chatbot today also support updating new information for customers and automatically create orders.
Customer Service Chatbot
This chatbot will be usually used by large businesses in the first step of online customer service. This chatbot will learn the answers according to the pre-installed scenarios and be ready to transfer the conversation to the sales staff for advice and orders. Today's smart chatbots also have the ability to automatically learn new questions and answers to converse with customers as naturally as possible. Chat data with customers will be saved to create detailed statistics later.
4, Benefits of chatbots
According to research by Uberall, 80% of users say they have had a positive buying experience with chatbots. 69% of consumers say that they prefer to use chatbots because it helps them connect more quickly with businesses (Salesforce). This has proven the tremendous benefits of chatbot for business activities.
Attract new customers
With the ability to process millions of messages simultaniously, the chatbot is a great tool to create shortcuts for customers to your products. Using chatbot also gives you a lot of useful statistical information about customers' psychology, their shopping habits and preferences, thereby adjusting offers and products more suitable.
Enhance customer experience
When customers first come to your website or page to explore products, the first thing is to keep them from staying. And chatbots do this very well. Customers can easily be instructed about the products they want. Chatbot operating 24/7 will always support customers without interruptions in space and time.
Increase sales
This is extremely understandable when instead of spending a lot of money on customer service human resources, businesses can free up resources for more important activities, directly creating business revenue and profit.
Customization
Now the chatbot is so personalized that it can tell you exactly the preferences, needs and shopping behaviors of customers. Based on these data, you can create viral chatbots to send messages directly to the customer's inbox without giving customers the uncomfortable feeling of spam messages.
5, Some chatbot platforms you should try
There are many chatbot platforms on the market with many competitive prices and different uses. In Vietnam, although there are many chat platforms that are advertised to bring breakthrough business efficiency, in reality a few chatbots are thoroughly researched and created real business solutions.
The platform allows to automatically create viral chatbots and reply to customers' inboxes and comments, and send remarketing messages. Users easily create automatic reply scripts for chatbot by mindmap and can get some basic information to take care of customers such as email and phone number. In addition, the free version also allows users to use without limitation of the number of customers.
Hana can be considered as one of the most popular chatbot platforms in Vietnam today. Besides supporting automatically replying to customers' messages and comments, Hana also helps you to create funnels to improve customer service and effective marketing campaigns without any cost. In addition, Hana's interface is also quite friendly and easy to use, making it easy for users to create scripts with just a few simple steps.
VinBot is a comprehensive chatbot product researched by leading AI experts at Vingroup Big Data Institute (VinBigdata). VinBot's goal is to bring the best experience to customers and end users. With the ability to process 10000+ messages simultaneously, VinBot supports an unlimited number of customer care. VinBot also focuses on aggregating and analyzing user behavior, from which accurate information statistics can help businesses utilize their marketing campaigns.
The platform helps you automate sales and marketing processes. With the ability to process an average of 10 messages per second, businesses can easily apply this platform in customer service. NovaOnX also allows businesses to analyze data, serve customers by scenario and hide bad comments from competitors.
6, Conclusion
Above are the most basic concepts you should master before using chatbots for business activities. In addition to this knowledge, you need to find a reliable chatbot service provider to give you valuable advice instead of choosing less reputable and effective platforms with cheap prices. VinBigdata with a solid technology research background from leading professors in Vietnam not only provides businesses with tools, but also brings trust and quality from consulting of leading experts.
Contact us to together share your goals.